Razorbills, Menemsha Pond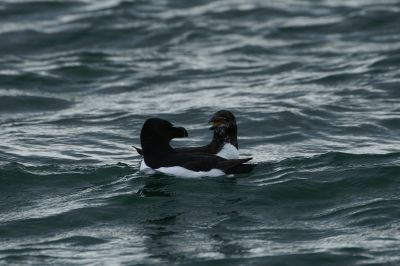 Razorbills, Menemsha Pond
Digitial Photo fine art print
16" x 24"
Island Bird Series

Razorbills –
These alcids usually appear in Vineyard waters only in winter, summering far to the north, raising their broods on sheer rock face ledges on inaccessible islands. Over four summers, the first in 2001, two or three Razorbills spent a couple of months fishing the tidal waters of Menemsha Pond between Chilmark and Aquinnah. Surely there was some individual bird common to these appearances, probably one of the adults. This photo shows an adult in breeding plumage and, I would speculate, its offspring.
The yellow mouth came as a total surprise to me when I first viewed the shot.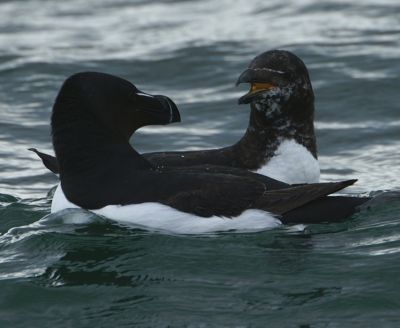 Lanny McDowell owns and licenses all photographs, illustrations, text and fine art that are part of this website, that are mailed to Avian Friends or that are in any way produced by Lanny McDowell; and they are protected by the Copyright laws of the United States. Their reproduction, modification, transmission, upload or publication are prohibited without express written permission. Images and products sold through this website are intended for private use and display only.