Red Phalarope at the Beach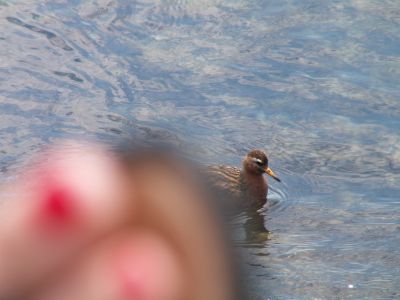 Red Phalarope at the Beach
Digital photo



This very unusual shot is not a composite or montage. A long strong easterly blow at the end of May, 2008, brought Red and Red-necked Phalaropes to the eastern facing shores of the Vineyard. When the skies and the winds cleared, most got back on track, setting out to sea to resume the northward trek.
This male Red Phalarope hung out long enough for a sunny day to emerge. A friend had coincidentally asked to go out birding with me sometime and I said, sure, come on, meet me at the beach.
Given the focus of the shot it looks like I was still shooting the off-track pelagic when my companion's painted digits made their debut.
If you are interested in this piece, please call: 508-696-8826
Lanny McDowell owns and licenses all photographs, illustrations, text and fine art that are part of this website, that are mailed to Avian Friends or that are in any way produced by Lanny McDowell; and they are protected by the Copyright laws of the United States. Their reproduction, modification, transmission, upload or publication are prohibited without express written permission. Images and products sold through this website are intended for private use and display only.